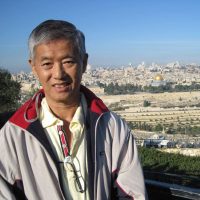 We give thanks to the Lord for His grace in guiding AIMST Christian Fellowship for the last 10 years. It is a joy and privilege to be able to remember and celebrate this event.
We thank God that He is the one who has remained present in the midst of our fellowship for all of these years. He has guided us, sustained us, empowered us, and cared for us as His people. Without the LORD's preservation, this anniversary celebration would not be possible!
AIMST Christian Fellowship is officially established under the umbrella of Chinese Methodist Church Sungai Petani in 2007. This Fellowship allows the Church to provide better personal attention and pastoral care, especially for students from outstations and East Malaysia.
The students' main activity is centered at Bedong Chapel which is a short distance from the campus. The Fellowship has been blessed with talented and zealous student leaders who are well rooted the Word and strong in faith. During the course of a few years the fellowship population increases many folds. They have, in fact, revitalized the Bedong Chapel worship services. Community services such as providing free tuition classes and enthusiastic programs are initiated, thus revealing the love of God to people outside the Church.
God takes us as we are – our personalities, experience, skills, wisdom, abilities, as well our disabilities including our weakness. As long as we offer Him our "five loaves and two fish" in life He uses who we are and what we possess to nourish others, thus, becoming a light shining for the testimony of Jesus Christ.
We pray for God's grace, wisdom and blessings on AIMST Fellowship as we celebrate God's goodness and His faithfulness to us.
BLESSED 10th ANNIVERSARY!  TO GOD BE THE GLORY!!!
TEH AH KING
7 January 2017